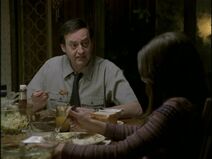 Harold Weir is the father of Lindsay and Sam and husband of Jean. He owns A-1 Sporting Goods. He served in the Korean War. He is very old-fashioned and dishes out lessons at the dinner table, generally by telling stories about people who did whatever he is mad at Lindsay for doing and finishing the story with "You know what they're doing now? They're dead!"
Ad blocker interference detected!
Wikia is a free-to-use site that makes money from advertising. We have a modified experience for viewers using ad blockers

Wikia is not accessible if you've made further modifications. Remove the custom ad blocker rule(s) and the page will load as expected.